Medical billing is an essential component of any successful medical practice. Unescapable for any medical professional, medical billing can, unfortunately, pose a multitude of challenges to physicians, which results in mistakes, missed charges, and frustration. Whether you are a new resident or an experienced staff physician, new research has shown that no one is immune to the most common billing errors like inaccurate coding and underbilling. With this in mind, we want to explore this new research and elaborate on the increasing knowledge gap between medical professionals and best billing practices.
Medical Billing Errors are Incredibly Prevalent
For physicians, patient safety and quality of care are always at the top of the list of priorities for their daily practice. It's why many of us got into the work in the first place, and at the end of the day, is the most important part of our profession. But, while high-quality patient care is essential to running a successful private practice, having a knowledge base in practice management and medical billing skills is a commonly overlooked area of medicine. Because software systems that track and bill for all services provided under your care are now the norm across the country, learning how to properly navigate medical billing systems has never been more important. As an area of training that is often overlooked, we believe that medical billing should be a core focus of resident and physician training throughout their careers.
What the Research Shows Us
Interested in learning more about medical billing inaccuracies, research published in the Canadian Journal of Surgery was conducted to assess the knowledge and comfort that a group of senior residents and staff physicians had with medical billing systems.
Designed as an assessment, 16 resident physicians and 17 experienced staff physicians were asked to work through a test designed to evaluate the accuracy of their billing. In the end, the results showed that both groups displayed poor billing accuracy, each group for different reasons. Some of the most shocking results from this study include:
Both groups performed poorly at identifying the correct billing codes
Staff physicians had a higher rate of correct billing codes when compared to the residents, having reported 55% correct billing codes to the 37.5% used by the residents. Both of these percentages indicate a significant gap in knowledge between medical professionals and current billing systems.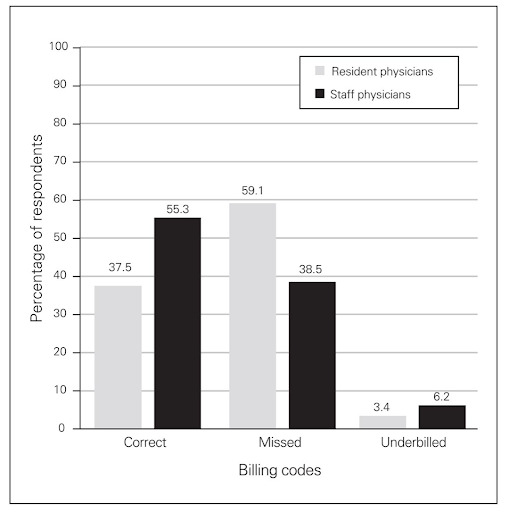 Both groups missed a large percentage of applicable codes
Staff physicians missed an average of 38.5% of billing codes, putting them ahead of the resident group who missed an average of 59% of codes. With limited resources available for both groups to become more comfortable with medical billing, both groups are completely missing applicable codes for services that they regularly perform. These missed codes are amounting to a significant loss of profit for medical professionals.

Poor billing practices are decreasing physician earnings Because both groups struggled to identify the correct type and number codes throughout the assessment, both groups underbilled, resulting in missed revenue and earnings. While the staff physicians were closer to the correct amount that should have been billed using the correct codes (getting 93% accuracy of costs compared to 82% accuracy from the residents), both groups performed sub-optimally. Both groups most commonly struggled with premium add-on codes, which were commonly missed completely.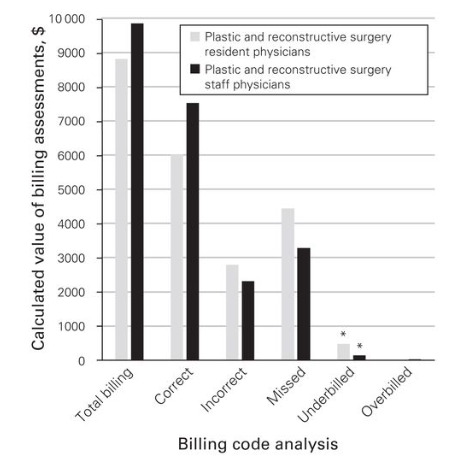 Most participants wanted more resources and training
After the testing, 100% of participating residents and 79% of staff physicians expressed interest in having additional billing training. For residents, many wanted increased exposure to medical billing throughout their schooling and additional opportunities for training. With 93% of experienced staff physicians rating themselves at a beginner's level for medical billing, it is clear that medical professionals are in need of additional training and support to better maximize their earnings and accuracy with medical billing.
ResolvMD is Here to Help
If you are a medical professional who regularly feels frustrated with the medical billing system, we are here to help. Because residents have minimal to no billing training throughout their schooling and staff physicians have few resources that are knowledgeable and reputable to reach for, there is an ever-increasing knowledge gap that needs to be addressed.
With this in mind, our team at ResolvMD has created a solution. Our Physician Insight Portal is the first personal physician billing coaching system designed to help physicians maximize earnings and improve the accuracy of their billing codes. Using artificial intelligence and data analysis to provide detailed feedback from learning activities, the insights provided from this resource are truly practice-changing for any physician.
Based on best billing practices, you can rest assured that learning with our Physician Insight Portal is one of the best ways to gain confidence in code selection and best billing practices. Helping physicians improve their billing accuracy and increase their earnings, this resource is an invaluable tool for all working medical professionals.
Connect With Us
Want to learn more? We would be happy to connect with you!
About ResolvMD:
ResolvMD is an experienced full service medical billing company that empowers physicians to bill more efficiently through data-derived insights and democratized knowledge. We believe you should be as confident and competent in your billing as you are in your practice. Our proprietary Physician Insights Portal harnesses the power of data to deliver customized insights directly to you in real time. No more second guessing or feeling like you don't have the transparency and accountability that you deserve. Paired with the most modern and secure platform on the market, you can rest easy knowing that we are taking care of all your billing needs while fine tuning your ability to understand best practices and earn what you deserve.